Slippery stuff
Cool products to pick up before your next ski or snowboarding trip to the mountain
Metrowest Daily News
December 7, 2007
By Nancy Olesin
Daily News Staff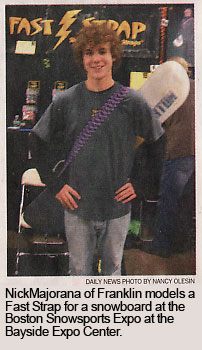 The annual Boston Snowsports Expo is a great place to get yourself pumped up for the season with information from ski resorts, and to check out awesome new equipment and snag some great deals on show-only specials.
Easy does it
A Franklin company has a hands-free, comfortable solution to carrying your bulky skis, snowboards and books - the Fast Strap. It's a stretchy, reggae-styled, piece of synthetic fabric that binds your stuff together and allows you to keeps your hands free to do other stuff.
Wrap the Fast Strap around both ends of your board, swing it over your shoulder like a guitar, and yours hands free to eat a waffle at the slopeside hut or carry a cooler. Bind your skis with a Fast Strap ski carrier set and your boots with the "spring loaded" boot straps, and your cumbersome equipment is suddenly a lot easier to tote across the long parking lot to the lodge.
The stretchy straps are made right in Franklin with the fabric made in the good 'ol USA, according to company president Michael French, and fold up small enough to put it in your pocket.
Back to Home